Welcome!
The Manhattan Makos is Imagine School of Swimming's competitive swim team and brings a new standard to New York City swimming. Coached by a collective of the most accomplished competitive swimmers in the tri-state area, the Makos embrace the sport at all levels. From a first race to an Olympic final, there's a journey in every lap. For swimmers with the feel for the water, the relentless work ethic, and most of all, the joy for the sport, these journeys have no limits.
The USA Swimming team is owned and operated as the competitive branch of Manhattan's finest aquatic institution – Imagine Swimming. At Imagine Swimming, children learn their first lessons in the water, and when they're ready to race – it's time for the Makos!
August 2018 Competitive Swim Clinic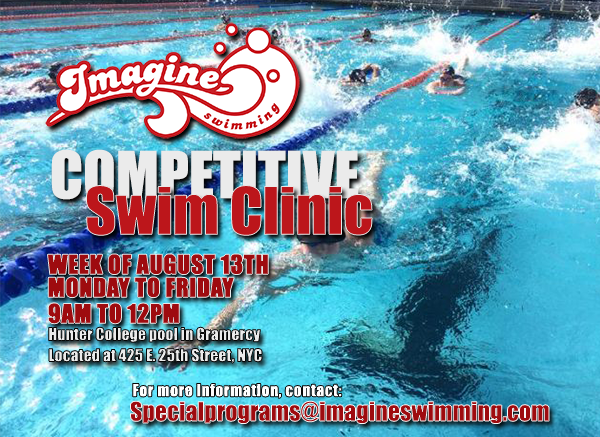 We're excited to announce our second annual Competitive Swim Clinic! Last year's clinic was awesome, and we all so much fun learning many new things about swimming. We're looking forward to another great week this summer, and we look forward to seeing you in the pool!
Who: Participants must currently be on a swim team and registered with USA Swimming. Open to ages 7 and up.
What: This week-long clinic will focus on the technical aspects of swimming, including the four strokes, body position, streamline, underwater kicking, plus starts and turns. We will overview the fundamentals and incorporate new drills for each stroke. Each swimmer's technique will be analyzed using underwater filming, and you will receive a special video of your swimming after the completion of the clinic. Manhattan Makos Coaches will lead the sessions. Each participant will receive Imagine Swimming gear.
When: Monday, August 13 - Friday, August 17, 2018
9 AM - 12 PM each day
Where: Gramercy Pool (425 E. 25th Street)
What to Bring: Swimsuit, cap, goggles, towel, water bottle
Rates & Registration: $820 for the entire week. 10% sibling discount (applied to the second child's tuition). Your account will be charged the full amount at the time of enrollment. We do not credit or refund for missed sessions and the deposit is non-refundable.
Contact: specialprograms@imagineswimming.com to register!