Crown Heights Armory
Address:
[Major R. Owens Health & Wellness Community Center] 1561 Bedford Ave, Brooklyn, NY 11225

Enter at 1561 Bedford Ave, between Union St. & President St.
Transportation:
Nearby subway stops: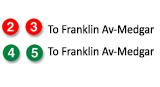 Parking:
Street parking available.
Entering the facility:
You can enter the facility at 1561 Bedford Ave. between Union & President Streets.
Everyone 12 and up must show proof of COVID-19 vaccination and a photo ID at the security desk.
Security will direct you through the turnstiles and to the right where you will proceed to the blue swimming pool building beneath the large Carey Gabay Recreation Center sign, via the walkway alongside the basketball courts and turf field.
Seating:
Seating for families and caregivers is located on deck, on the bleachers.
Facility specific rules:
Please note that all rules are strictly enforced by the facility staff.
No strollers or street shoes are allowed on the pool deck.
Food and drink are not allowed anywhere in the pool area, including the bleachers.
Glass is not allowed anywhere on the premises.
We encourage families with young children who are not currently swimming to wait in the lobby viewing area (not the bleachers).
Wet bathers are not allowed in the bleacher area.